The transportation industry is seen as a gauge of every economy. If freight is on the rise, so is the economy. However, transportation industry restrictions, such as a lack of competent drivers, properly insured trucks, and increased insurance prices, are putting a burden on trucking companies.
So, if you operate a business that relies on the usage of vehicles on a daily basis, it's critical that you insure them. Many business owners rely on commercial vehicle fleets to accomplish essential duties and aid with day-to-day operations. These people should begin to rely on fleet insurance to help protect the safety of their critical assets and decrease overall risk.
Companies frequently purchase more vehicles as their businesses grow, and every vehicle is insured separately. It happens frequently for businesses to overlook renewal dates or misplace policy contracts. In these circumstances, fleet insurance is a great option for vehicle insurance because it is economical and easy to operate.
Fleet insurance is often regarded as the finest vehicle insurance plan for insuring commercial vehicles under a single policy. Obtaining fleet insurance saves company's time, money, and reduces difficulty by removing the need to purchase insurance coverage for individual vehicles in their fleets.
What is Fleet insurance?
Fleet insurance is available to companies who have at least four or more commercial vehicles and utilize them for business purposes. Smaller organizations can fulfill these standards in other ways, such as including personal automobiles owned by founders. Taking up a fleet policy might save you money in the long run.
This insurance is a type of business vehicle insurance; whether you operate several company vehicles, a commercial vehicle, a fleet of delivery trucks, or a mix of different types of vehicles, a fleet policy has the flexibility to cover as many vehicles and vehicle types as your business operates. It enables you to cover all vehicles under one policy rather than separately, and you may either insure all drivers or assign named drivers to all vehicles.
Fleet vehicle insurance works similarly to personal automobile insurance, in that you pay a premium to an insurance company. Motor transporters typically have a significant financial burden in the absence of fleet insurance. Large vehicles accounted for 10% of fatal collisions and their claim costs are lower with fleet insurance since the insurer bears the majority of the expenses.
What Does Fleet Insurance Policy Cover?
According to the motor vehicles act, it is compulsory for all fleet vehicles used for commercial purposes to have a third party insurance or liability only policy. To assist your business maintain compliance and avoid hefty penalties for noncoverage, businesses should understand the acts standards. Policies can vary from provider to provider on what they do and do not permit.
Under a single policy, fleet insurance protects all of your vehicles. This makes the claims procedure more manageable. Businesses are not required to deal with several insurers. Another significant benefit of combining several insurance policies is that only one renewal date is required. As a result, the likelihood of missing a renewal reduces.
A fleet insurance policy also offers complete protection against liabilities under the law. This coverage will thus be useful if one of your vehicles is involved in an accident and the outcome is legal action. Both court costs and settlement expenses will be covered. Thus, the policy eliminates the risks related to fleet maintenance.
It also covers loss or damage to vehicles brought on by unpredictable events such as fire, accidents, break-ins, and natural disasters. Injury to the vehicle's driver is also covered by the plans. In the event that your vehicle gets into an accident, this is quite helpful. The insurance will pay for any injuries or medical care. In rare circumstances, you can even agree to cover personnel vehicles as part of the policy.
While basic auto insurance for fleets provides minimal legal need for businesses on the other hand fleet insurance provides much more than that, Instances of personal harm, property damage, or a combination of the two are covered by fleet liability coverage. There are three types of liability: Bodily Injury Liability, which often includes funds for a legal defense, Property Damage Liability, which covers money for property damage, and Combined Single Limit Liability, which covers both property damage and bodily injury.
How much does Fleet Insurance cost?
Fleet insurance cost primarily depends on fleet size, business size, and the company's carrier. The cost of the fleet insurance policy may also be influenced by other factors, such as the age of the vehicle, its intended use, and the insurance alternatives selected. Gross Vehicle Weight Rating is another factor that affects truck fleet insurance (GVWR). The most expensive fleet insurance rates often apply to trucks (such as 18-wheelers) with GVWRs greater than 26,001 lbs.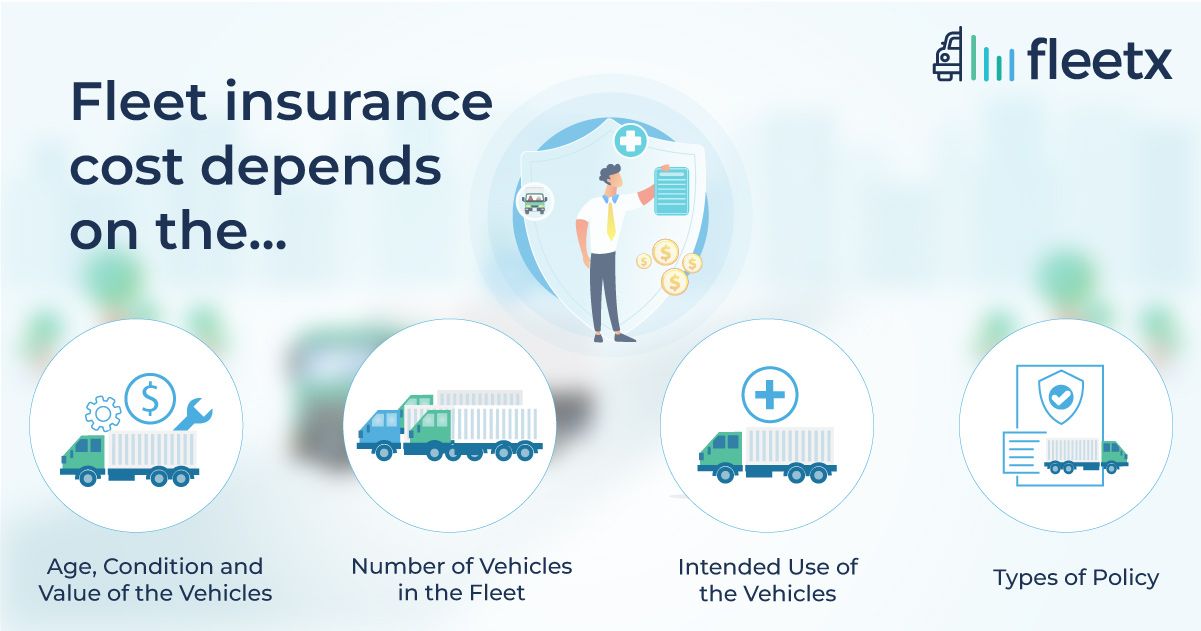 How does fleet insurance work?
Fleet insurance covers a variety of vehicles that a company leases or owns, and it can be registered in the name of the firm, a partner, or a director. Depending on the needs of the business, payments can be made monthly or annually. Deals can be acquired through insurance comparison websites or specialized brokers.
There are three types of coverage for fleet insurance: Comprehensive, which covers any injuries to you, your passengers, and third parties as well, Third party coverage covers only damage to third parties, Third party fire and theft insurance covers any damage to a third party vehicle against fire and theft.
There are two different types of policies: "Any Driver" and "Named Driver." The most flexible insurance are "Any Driver" policies, which have higher rates but may be preferable for bigger businesses. However, a "Named Driver" policy is ideal for a small business. It only pairs drivers with vehicles. Additionally, this is typically the most cost-effective choice.
What advantages does fleet insurance offer?
One policy, one renewal date: As was said above, fleet insurance enables you to cover every type of vehicle that is owned by your business under a single policy. You will just have to deal with one policy renewal date if you insure every vehicle in your fleet under the same policy.
Lower rates and more options: Instead of individually insuring each vehicle in your fleet, you may find that purchasing fleet insurance is more cost-effective. From an insurance standpoint, fleet insurances are significantly simpler and budget friendly for SMEs . Its coverage is more comprehensive and can spread out each individual's risk across the entire fleet.
Take a look at what usage-based telematics insurance has to provide in addition to fleet insurance
A traditional fleet insurance coverage allows you to have one policy that covers several vehicles, instead of having a separate policy in place for each of your cars. Although fleet insurance is useful, usage-based fleet insurance offers fleet owners considerably more. Your overall price for usage-based fleet insurance is based on how frequently you utilize your vehicle. This means that although your overall premium may change from month to month, you will always be charged according to how your vehicle has performed and how much coverage your vehicle has had.
You must pay a minimum base rate for your insurance in order to ensure that your vehicles are always insured in order to lawfully run your fleet. You then pay a variable premium based on the usage of your vehicles, which may be based on their mileage or the amount of time they are on the road. Telematics Insurance service providers assist companies in finding fleet-specific insurance that is flexible. Additionally, these devices provide you access to a wide number of advantages that may help you reduce fleet risk and boost operational effectiveness.

The Next Step
The latest innovation that will alter the way we see vehicle insurance in today's cutthroat business environment is fleet insurance. The necessity for fleet insurance is widely understood by fleet operators. However, in order for them to provide cost- and service-effective services, it is vital that the fleet is used to its full potential with the least amount of downtime possible for repairs and maintenance. Therefore, having high-quality insurance is crucial for their company's smooth operation. For your network of vehicles to remain secure, you must have fleet insurance. They must be handled with the utmost care, as they are essential to everyday operations.
How does fleet insurance work?
Fleet insurance covers all of the vehicles owned by your business, no matter the type of vehicle, under a single policy. This means that you don't have to obtain individual policies for each vehicle in your fleet because you can insure even mixed-use vehicles as a group. Fleet insurance can be registered in the name of the business, a partner, or a director and covers a variety of vehicles that a company rents or owns. Payments may be paid either monthly or annually, depending on the requirements of the firm. Deals can be obtained from specialized brokers or insurance comparison websites.
How many vehicles do you need for fleet insurance?
You need as few of 2 vehicles to have fleet insurance.