From technological advancements to a successful funding round, Fleetx ended its year 2022 on a great note. And with another year flying by, we have seen many ups and downs in our journey. But undoubtedly, 2022 has been a year full of achievements and recognitions for Fleetx because we, as a team, made sure of conquering and achieving our mission.
Our year started with a very proud moment, as we took a step further and announced a raise of $19 million in Series B led by IndiaMart with existing investors (Beenext and IndiaQuotient) also participating. This funding helped us accelerate our vision and mission of digitizing fleet and logistics operations to improve efficiency, safety, and reduce costs, as well as solve supply chain process problems with automation.
2022 Highlights at Fleetx
Growth at Fleetx
We have always maintained our commitment to a customer-centric approach, and this year we continued working on our mission and vision of removing all the barriers and fragility from supply chain processes and logistics. Our approach helped our customers save money while improving overall operational efficiency. Additionally, we expanded internationally and conquered every stream, be it a strong hike in Fleetx searches, organic searches, or the growth of our Fleetx family.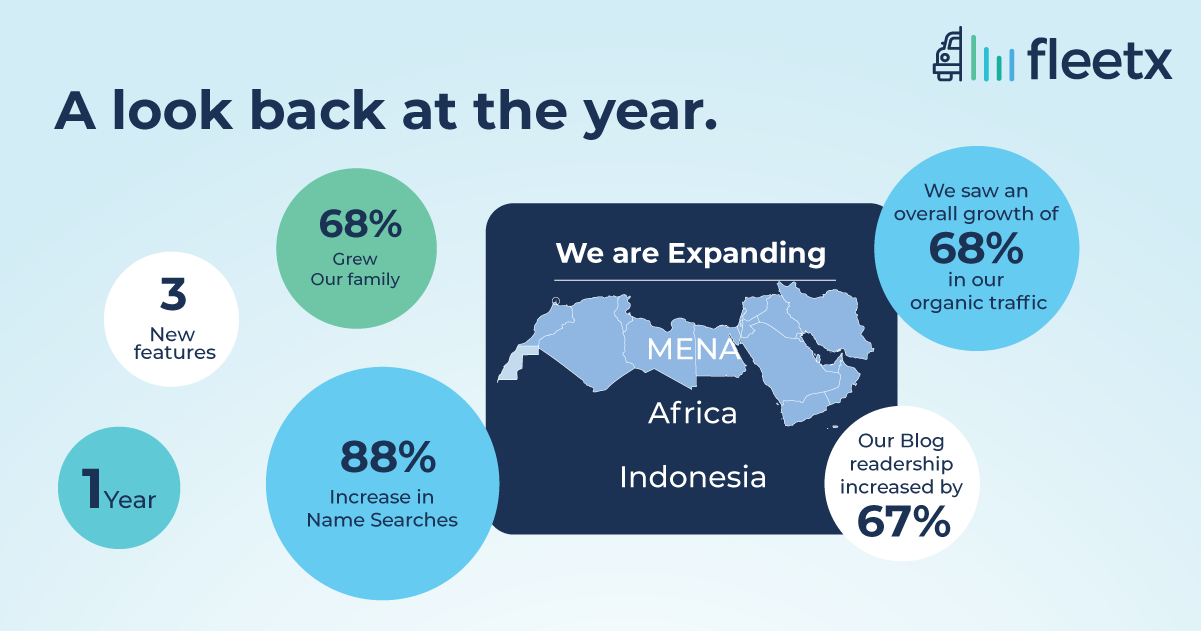 Awards
As always, we maintained our position in our customers' hearts by helping them solve their problems. With clients' support and love for us, we got recognised with maximum G2 badges this year. This recognition not only made us proud, but it gave us the courage to do much better in the coming future.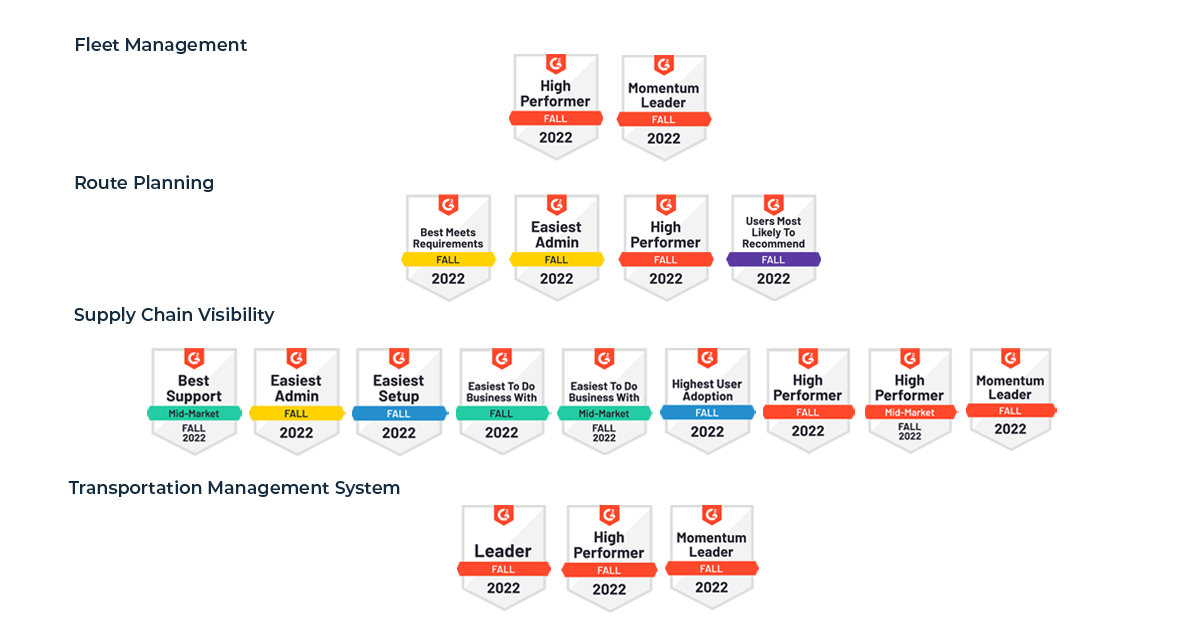 It is not wrong to say that "happy employees make happy customers." We could achieve client satisfaction because our team could deliver. This year once again, we received the "Great place to work" award as we made sure that our team got a better, peaceful, joyful, and supportive environment to work in, so that they could deliver the best to our clients and also love the workplace.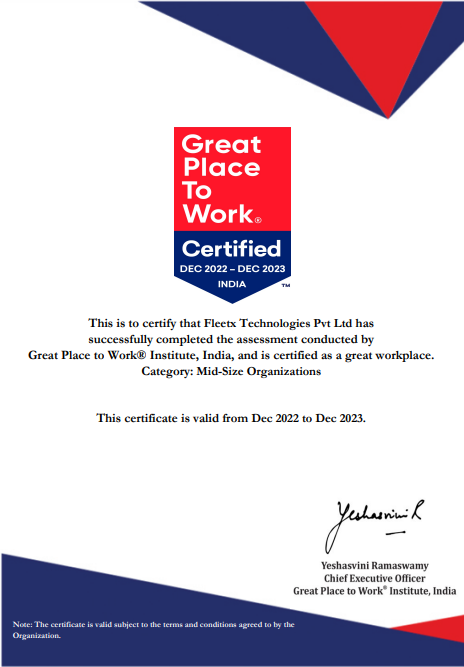 Media Presence
Our media presence grew this year at a very high rate; we saw a lot of features during the closing of the funding round, and our founders got featured in several renowned publications. We also got featured in a bunch of review sections and all over again got opportunities to be part of events like the Golden Jubilee Celebration of the Hyderabad Goods and Transport Association and The JK Laksmi Cement Aarambh Transporters Forum 2022.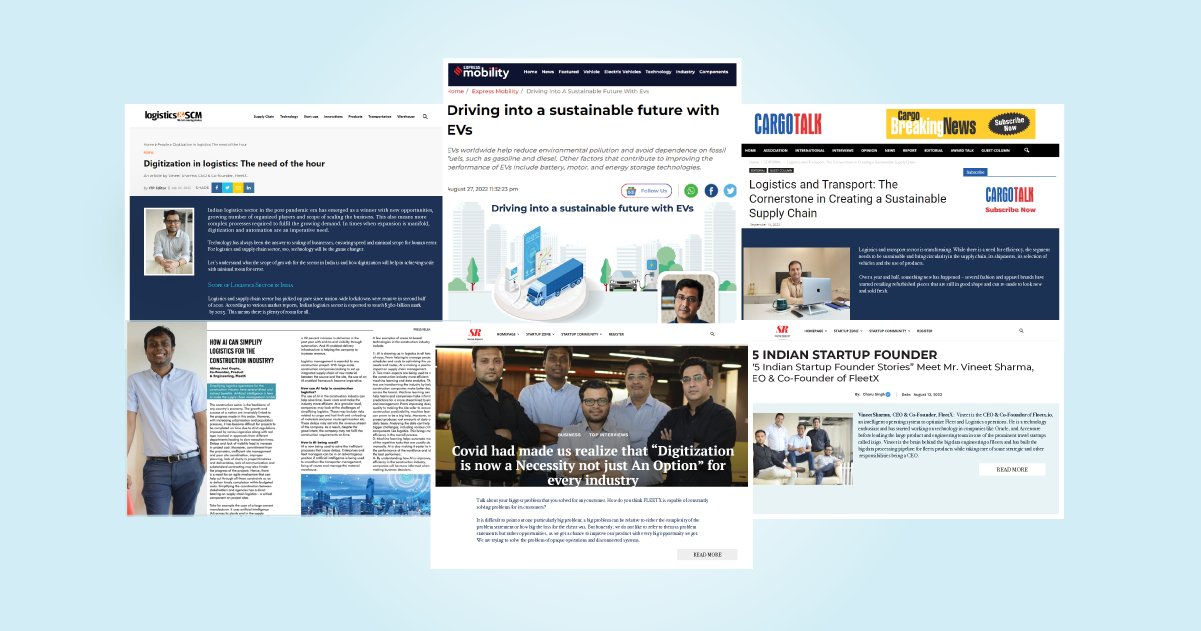 Aside from that, we were honored to be a part of the much-needed and long-awaited National Logistics Policy at Vigyan Bhawan. The policy was a significant step forward for India's logistics industry, and its implementation does have the potential to change the supply chain landscape.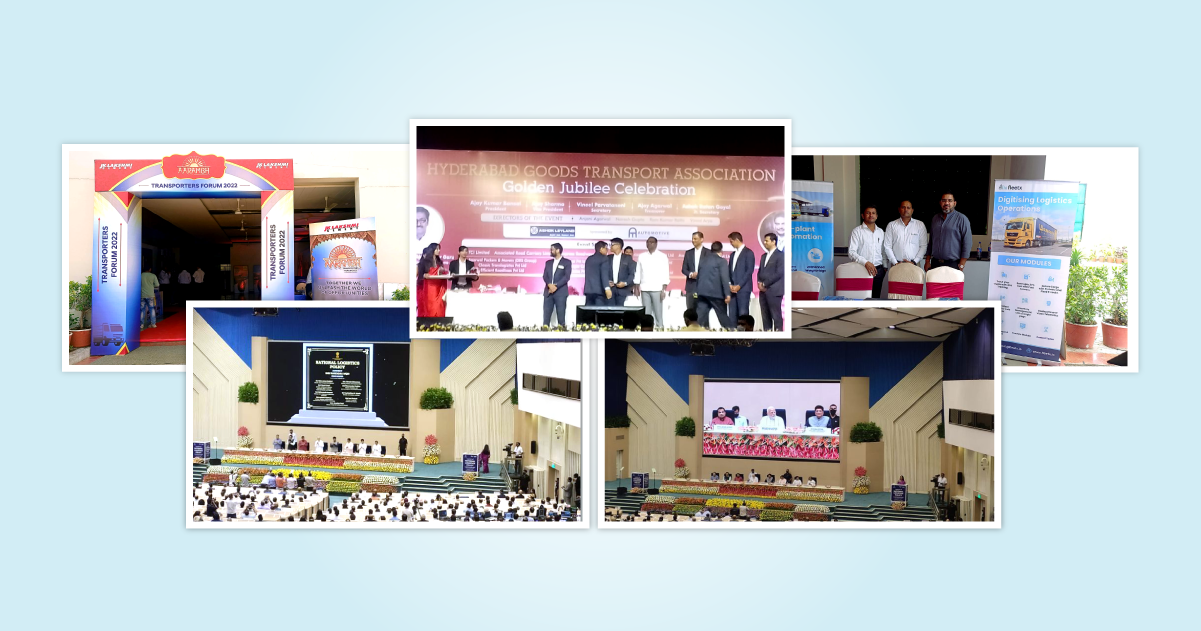 Product upgradation
Transport Management Software (TMS): As our most important software, we upgraded its features and use cases to make it a one-stop solution for enterprises and manufacturers for more accurately managing driver contracts, better load and dispatch, increased safety, making indents and freight invoices, reducing turnaround time, and increasing ROI.
Enterprise Resource Planning: This platform will benefit transporters by optimizing their operational processes and assisting various departments in better collaboration and relationship management. ERP is focused on storing, collecting, and accurately analyzing data across the operations on one centralized platform, which will lead to increased efficiency and end-to-end visibility of operations.
Video Telematics : We unveiled Video Telematics, a cutting-edge solution made by the integration of cameras, analytics, and fleet tracking. Video Telematics can make it possible to monitor vehicles end-to-end, help in driver coaching, driver behavior monitoring and provide effective feedback to prevent loss of drivers, pedestrians, cargo, or vehicles with the help of combining fields like computer vision, pattern recognition, data analytics, and the internet of things.
Until next year
Year 2022 has been full of energy, blessings, and enthusiasm for Fleetx. Another noteworthy event that took place in 2022 is that Fleetx turned 5 years old! We, as a team, couldn't be more thankful for all the love, support, and recognition we have received. So, are you excited for what's coming up in 2023?