As India emerges from the second wave of gruesome coronavirus pandemic, what lies ahead is a series of economic challenges. A series of lockdowns and containment measures in the country and around the globe have disrupted the regional & global supply chain. As a result, inflation in the country is on the rise, pegged at 6.23% for June. They lead to weak consumer demand and the soaring cost of doing business, driving the price of essential commodities like cooking oil, LPG, petrol, and other consumer goods significantly. The most recent fuel price hike in India has been a cause for a primary concern for all sectors.
Price of diesel at an all-time high, petrol hits a century!
When household income is declining, the soaring price of fuel like diesel & petrol is burning a hole in the pockets of ordinary citizens and companies' balance sheets. Unrest among business owners and ordinary people is growing louder as petrol crosses Rs 100 per liter in several regions around the country. Diesel prices hit an all-time high, causing panic among business owners as it is the most used fuel for commercial vehicles used for freight.
Taking a look at the most recent rates of fuel across the country, Mumbai (Petrol: Rs 107.83, Diesel Rs 97.45), Delhi (Petrol Rs 101.84, Diesel Rs 89.87), Chennai (Petrol Rs 102.49, Diesel Rs 94.39), Kolkata (Petrol Rs 102.08, Diesel Rs 93.02), it is understandable why there is growing unrest among citizens and business owners across the country.
The highs and lows of the global fuel economy
To put it into context, India is the third-largest fuel importer globally, with over 80% dependence on crude oil imports. As a result, crude oil has been pretty volatile in the past decade in the global market. Averaging around $95 per barrel between 2011-14, the cost of crude oil crashed to sub $50 per barrel in 2015-16 due to an amalgamation of factors led by abundant supply and falling global demand.
After that, crude oil prices averaged between $50-$60 per barrel until the pandemic hit in early 2020, leading to a demand shock, ergo crude oil price shooting rock bottom to as low as $11.26 per barrel, yearly closing at $39.68 per barrel. However, as countries started recovering from coronavirus and demand picked up, the price of crude oil is seeing a linear rise, crossing $70 per barrel in July.
Understanding the Indian fuel economy
One would expect the retail price at which consumers and businesses in India receive fuel would also adhere to the dynamic change in fuel cost, but that has not been the case. The average price of petrol and diesel in India between 2011-2021 are as follow,
2011 - Petrol Rs 58.5, Diesel: Rs 37.75
2015 - Petrol Rs 60.49, Diesel Rs 49.71
2017 - Petrol Rs 63.09, Diesel Rs 53.33
2020 - Petrol Rs 79.76, Diesel Rs 79.88
2021* - Petrol Rs 99.86, Diesel Rs 89.36
On the surface, it seems as if the retail price of fuel in India only follows the global pricing dynamics for fuel when there is an inflation in crude oil prices and not when there's deflation.
India follows a dynamic fuel pricing system; that is, not the government but Oil Marketing Companies (OMCs) decide the fuel prices in India based on international product prices, exchange rate, tax structure, inland freight, and other cost elements. This price fixed by OMCs based on global factors is the Base Price for fuel. However, on closer analysis, the real reason behind the upwards trend in fuel prices has been increasing state and central government taxes on fuel. Additionally, some of the largest OMCs in India are all government-owned PSUs, including IOC, HPCL, and BPCL.
Taxing Affairs: How fuel is taxed in India
Fuel (petrol and diesel) and liquor and tobacco are major cash cows in generating tax revenues by state and central government. So, as one would expect, they are taxed like one too. The Central Government charges excise Duty, and Value Added Tax (VAT) is set by the State Government, which the consumer bears. The table below explains the latest price break up for the retail price of diesel and petrol in India.
The excise duty on the price of petrol is 32.40% while VAT is 23.07%. Thus, the retail price at which consumer buys petrol comprises of 55.47% in taxes. While for diesel, excise duty makes up about 35.38%, VAT around 14.62%, and in total, 50% of the retail price is made up of taxes.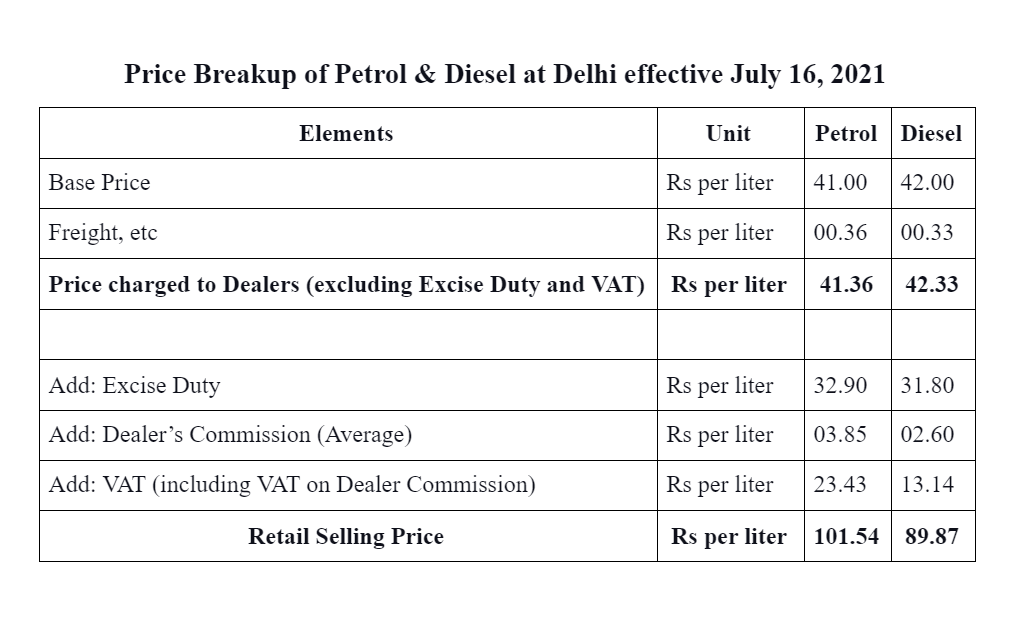 Source: IOCL

To put it into perspective, excise duty on petrol has gone up from Rs 9.48 per liter in 2014 to Rs 32.90 in July 2021 for petrol, while for diesel, it went from Rs 3.56 to Rs 31.80 during the same period. As a result, collections from excise duty from petrol and diesel went up a whopping 307.3% between 2014 and 2021!
Decoding the recent fuel price hike in India
Fuel prices have been hiked at an unprecedented rate since the pandemic began in 2020. More so, since the emergence of the second wave of coronavirus pandemic. For instance, the absolute number of price hikes this year were January (10), February (16), May (16), June (16). During the run-up to assembly elections in five major states in India, fuel prices were cut four times between March and April. During the first six months of this year, fuel prices were increased every third day, which is unprecedented for any major country globally.
One of the primary reasons speculated and discussed was to make up for the shortfalls in government tax revenues severely impacted by reduced business output and additional spending due to welfare & healthcare schemes. As a result, governments were able to keep up their tax collection but at what cost?
Who did fuel price hikes hurt the most?
There is a massive outcry against the unprecedented fuel price hikes and their impact on ordinary citizens. Social media, newspapers, news channels, etc., reporting the issue of fuel price hikes and their effects on society have primarily focused on the plight of the ordinary citizen. However, the devastating impact of the fuel price hike on businesses has barely caught the public eye.
Diesel is the most widely used fuel in India, with more than 2.5x of petrol consumption. Among that, commercial vehicles account for more than 40% of consumption, whether they are freight, public transport, or commercial vehicles. Furthermore, almost 67% of all freight in India is transported via roads. Hence, it is safe to assume that businesses directly involved in transportation are the most impacted by soaring diesel prices.
In a March publication of LiveMint, the chairman of All India Transporters Welfare Association (AITWA) spoke about the impact of price hikes on the freight business and how a 30-35% increase in diesel prices has led to a 25-30% increase in freight rates for Full Truck Loads (FTL) or transportation contracts between large transporters and businesses. He pointed out that freight rates have increased around 25% across all modes of transport.
Continues price hikes have impacted large transporters who deal in semi-annual or annual contracts as they have to bear the brunt of the fuel price hike cutting their revenue. Small transporters that work on an ad-hoc basis have it worse. Due to immense competition, freight rates offered by them have more or less remain unchanged while the price of diesel has soared in the same period. The continuous rise in the cost of diesel has made the business unviable for many transporters across the country.
A report dated back to February in Business Standard projects that close to 50,000 small truckers in India could go out of business due to the hike in diesel prices because the supply of transport vehicles on the road is more than the current demand. Hence, to cut down expenses, fleet owners aim to downsize the number of trucks in their fleet, the brunt of which is faced mainly by small truckers.
The slowdown in the transportation sector directly impacts the sale of commercial automobiles as fleet owners and transporters halt the purchase of new vehicles. Thus, severely impacting the automobile industry as well.
The actual cost of trucking amid rising in diesel price
Let's understand the impact of the rise in diesel price with actual statistics. So, the average mileage for a Full Truck Load is 4 km per liter on average. So, a commercial Indian truck, on average, covers around 60,000 km annually. So, the cost of 1 liter of diesel in India was around Rs 31 in 2009, Rs 55 in 2014, Rs 65 in 2019, and Rs 90 in 2021. So, in our hypothetical example, our truck with FTL would require 15,000 liters of running annually. Our figures based on our assumption are as follow:

The fuel cost required by a single truck increased around 344% between 2009 and 2021*, while it increased approximately 72% just between 2019 and 2021. Now bearing in mind this is purely the fuel cost, trucks cover all the trips totaling 60,000 km with a linear mileage of Rs 4 per liter throughout the year. However, the on-ground reality is much different. India's transportation sector is plagued with inefficiencies. A typical truck in India spends almost 20% of its run-time at inter-state check posts. In addition to that, a report published by SaveLIFE Foundation in 2020 estimated that approximately Rs 47,852.28 crores per year is the bribe amount in trucking operations. Apart from these, poor quality of roads, long hauls, regulatory and compliance issues severely impact the transport operations in India.
Reasons for poor fuel efficiency in Indian transportation
When we talk about the actual fuel cost for trucking operations, several factors lead to a much higher fuel cost in operations. Some of the most common instances that lead to higher fuel consumption and cost are listed below,
Fuel theft is widespread for trucks in transit in India and can significantly increase the cost of fuel in operation.
Poor quality of roads and terrains are one of the primary reasons for poor mileage in Indian trucks. As a result, it could drop to as low as 0.5-1 km per liter quite often.
Engine idling is again a widespread issue that leads to fuel wastage. Long queues and waiting times at inter-state checkpoints, toll booths, traffic, etc., contribute to this behavior.
Overloading is again another cause for concern that severely affects mileage for commercial trucks in India.
Poor route planning and navigation lead to trucks taking longer to deliver goods as they tend to reroute, take longer routes due to lack of proper navigation.
The pointers as mentioned above often lead to fuel consumption being much higher than predicted by our example. These factors are prevalent across the country and sectors leading to exponentially higher fuel consumption due to poor efficiency. This pretty much explains why transport is adversely affected by the rising in the price of diesel. As the price hike continues, transporters, mainly small-scale fleet operators and truck drivers, lose out the most.
Future of Indian transport and what lies ahead
Industry experts, corporates, transporters, and even the Reserve Bank of India have constantly been making calls, urging the government to reduce excise on fuel as the current levels are unsustainable to run business. It drives up the cost of doing business for companies and retail prices for consumer goods leading to even higher inflation, a never-ending circle. However, it would not be wise to expect fuel prices to come down any soon. First, the cost of crude oil is improving as demand worldwide picks up due to recovery from lockdown. This is likely to continue as the global market has been rising and geopolitical tensions around oil-producing nations have stabilized.
Secondly, the coronavirus pandemic has severely impacted the economy in various sectors. Thus, tax collection has taken a nosedive. In addition to that, the circumstances presiding due to the pandemic have led to spending being increased in critical areas like health and welfare. In such a scenario, fuel tax is being consistently hiked to make up for the shortfalls in their tax revenues due to the battered economy. Second, to balance the increasing fiscal deficit.
In such a scenario, transporters and fleet owners have to rely on better fuel management to make their operations more efficient for the business to be economically viable.
What can a business do to tackle fuel price hikes?
There are only two possible options that can help businesses stay afloat and turn profits, cut reliance on fossil fuel (petrol, diesel), run vehicles, and better fuel management. EVs have been the ideal candidate to replace fossil fuel-driven vehicles. Due to technological push and favorable policies, they have gained ground in India at an unprecedented rate. However, the lack of infrastructure around the country for charging or refueling and sub-optimal mileage has been a deterrent. Therefore, more technological advancement and scaling up are needed to be adopted in logistics operations and commercial transportation. On the other hand, better fuel management using technology to improve efficiency.
The transportation industry has been riddled with the issue of transparency and inefficiency. Among the others mentioned earlier, fuel theft needs to be looked into and employ technology-driven solutions for efficient fuel management. Due to fuel price hikes in India, the higher cost of operations can be nullified using technology-driven fleet and fuel management solutions. Better fuel management could improve the mileage of trucks, and more transparent fleet management can control fuel theft and related malpractices, which has been an added expense for every transporter.
The fuel price hike has been a problem for the common man for years but often the real reasons behind price hikes are never truly explained. Through this paragraph, we try to summarize the core element of this piece, answering some of the most common questions related to fuel price hikes in India that have been asked enough but not explained enough.

What is the reason for the hike in petrol price?
Two factors determine the hike in the price of petrol available for retail. First, the cost of crude oil in the international market has constantly been rising due to rising demand. Second, the increasing taxes by central and state governments on fuel with excise duty increased 58 times in the last six months. These two factors are mainly why petrol prices have crossed a century in various cities around the country.
How will oil price increase affect the transportation industry?
The cost of oil makes up over 60% of the total cost of transportation. As for large transporters working with large-scale companies on contracts are struggling as the increase in fuel prices is being borne by them due to fixed contracts and dynamic price of oil. Small transporters find it unviable to run their operations due to high competition and rising fuel cutting into their revenues. Fleet owners are reducing the number of vehicles in their fleet and putting a halt to purchasing new vehicles.
Which mode of transportation would suffer most from higher fuel prices?
Commercial transportation, mainly road transportation, is suffering the most due to higher fuel prices. Moreover, due to poor fuel management and efficiency resulting in low mileage, transporters struggle to balance operational cost and revenue. Apart from that, airways as a mode of transportation are suffering due to rising fuel costs while demand stays low.