Logistics is not only the transportation of goods from one place to another, but it is also the management of the smooth transportation of things from starting point to a destination to fulfill customer's requirements. The logistics sector in india includes packaging, storing, handling, and transportation. Logistics sector alone contributing around 14.4% in the Indian economy, which is very huge and is expected to grow at a Compound Annual Growth Rate (CAGR) of 15-20 percent between FY2016-2020.
Below are some of the main government's initiatives that have come up with key players in evolution of logistics sector in India.
E Way bill leads to evolve logistics sector
E way bill is electronics way documents required to carried by a person carrying a consignment of goods worth more than Rs. 50,000(Single Invoice/delivery challan). These bills can be directly generated from the E way Site.
The E way bill can be issued by registered suppliers/receivers that are transporting goods to different states. Every e way bill has the validity which depends upon the distance the goods are to be transported. For every 100 Kms. movement, one-day validity is provided and it can be extended before 4 hours of expiry of validity.
It helps in the elimination of state boundary check-posts and physical paperwork across the inter-state border which helps in faster movement of vehicles, reduction of the turnaround time of vehicles and an increase in average distance traveled. This factor boosts the logistics sector by reducing the documentation and faster movement of vehicles and is considered as good initiatives by government of India in evolution of logistics sector.
AIS 140 contribution in evolution of logistics sector
Automotive Industry Standard 140 (AIS 140) is a set of standards published by the Automotive Research Association of India (ARAI) designed to build an Intelligent Transportation System (ITS). ITS is an advanced application which aims to provide innovative services relating to different modes of transport and traffic management and enable users to be better informed and make safer, more coordinated, and smarter use of transport networks. According to government guidelines, every public transport must have AIS 140 certified GPS tracking device and Panic/SOS button. This will help in tracking vehicles easily and providing assistance in case of any mishap happens.
Parivahan Portal
Every state has different policies and procedures across our country for the basic documents related to vehicles like Registration certificate (RC) and Driving Licence (DL). So, the government has felt the need to define the same standard for these documents on pan-India to ensure correctness, interoperability and timely SMS availability of information. Hence, Ministry chooses National Informatics Centre (NIC) to standardize and deploy two software - VAHAN for vehicle registration and SARATHI for driving licence and their data is consolidated through Nation and State level and these softwares are implemented across 1000 plus RTOs of the country.
Services offered in VAHAN are vehicle registration, fitness, permit, and taxes. SARATHI offered services like E-payment gateway, Common Service Center (CSC) and State Service Delivery Gateway (SSDG). These initiatives of digitizing all the paperwork helps in the evolution of logistics sector.
All of these services offered in one mobile app mParivahan where you will be able to easily search any document related to RC, DL and any other vehicle related information as shown below also there is alert as a  sms service regarding the same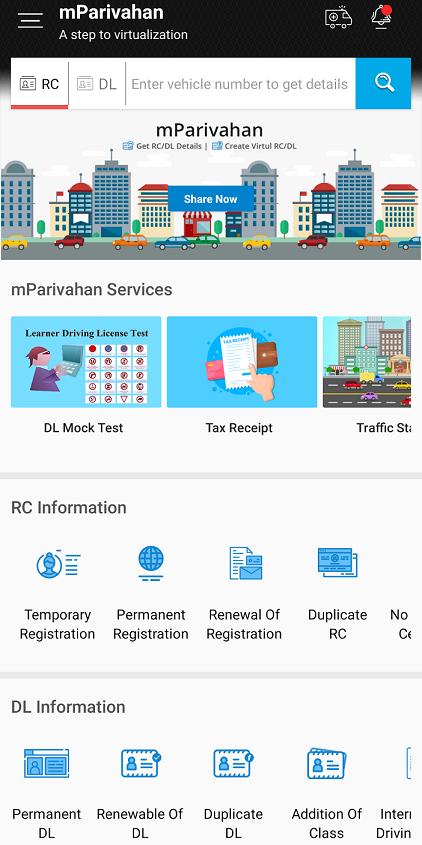 Multi-Modal Logistics Parks in India
MMLP is a Freight-handling facility surrounding a minimum area of 100 acres, with different modes of transport access, providing world class storage solutions such as cold storage, mechanized warehouses, and handling as well as delivering value added freight services. Logistics parks will also provide services like customs clearance with bonded storage yards, quarantine zones, and warehousing management services.
The transport ministry is planning a network of 35 multi-modal logistics parks around different states of our country which will account for 50% of the road freight in the country. This initiative has been taken to improve the logistics sector by reducing freight costs, warehouse costs, and vehicle congestion which contributes a lot in the evolution of logistics sector.
Odisha unveiled its multi-modal logistics park at Jharsuguda a prime industrial hub in the state in the presence of Prime Minister Narendra Modi.
GST affect positively to the evolution of logistics sector
One of the most beneficial sector after GST Tax reform is the logistics sector. GST has eliminated the check posts across the nation which leads to a reduction in waiting time and hence turnaround time of trucks improve. GST has replaced all the indirect taxes and has eliminated the need for warehouse hubs across the States which were used to avoid Central Tax. This leads to better utilization and efficiency of vehicles which eventually reduces the cost and contribute to the evolution of logistics sector. As per the Economic Survey 2017-18, the growth in the logistics sector is expected to reach $215 billion by 2020.

These all the initiative of Government are expected to bring down the logistics cost from the present 14% of GDP to less than 10% by 2022, that would set the path for the logistics sector to evolve as a major contributor to the Indian economy.