Knowing where your fleet is and how your drivers are performing their duty is a critical and essential part of a fleet business. You need more than just GPS tracking to maintain an efficient fleet, you need real-time data, live dashboard, and various performance graphs to get the better understandings of your fleet business.
Here are 7 ways that Real-time GPS tracking and live dashboard helps you to improve your fleet productivity.
1. Real-time alerts improve driver's activity
2. Theft recovery with geofencing
3. Live Dashboard gives a broader picture of fleet performance
4. Live vehicle speed monitoring
5. Improve vehicle life and reduce maintenance downtime
6. Share live location with clients
7. Manage drivers availability
1. Real-time alerts improve driver's activity
It is always important to keep track of every event that happened in real-time, this is achieved by real-time alerts in the form of SMS/email/push notifications. With real-time alerts, you would always be in touch with your fleet at every point of time. Real-time alerts help you to monitor your driver's activities and control harsh driving whenever drivers violate any preset limits i.e sharp turn, hard acceleration, quick lane change, and vehicle idling for a long duration, etc. Controlling these activities of drivers would help in improving their driving behavior and hence productivity of fleet would automatically be improved.
2. Theft recovery with geofencing
Vehicle theft is always a worry to fleet owners, but not anymore. With fleetx, you can set up geofences, with which you would automatically be alerted whenever your vehicle moves outside your yard's perimeter or any other geofence area set up by fleet owners. This would be instrumental in preventing vehicle theft from your yard or warehouse.
You can also keep an eye on your entire fleet in real-time and even track their unauthorized movements. If anyhow, your vehicle has been stolen, you can track where your vehicle currently is. Apart from tracking, you can also share live vehicle tracking with police authorities to help them in recovering your vehicle faster.
3. Live Dashboard gives a broader picture of fleet performance
The most simple way to view fleet performance is through a live dashboard depicting graphs on various performance metrics. It gives you both the big picture and the complete details in a single view. Live dashboard and graph display a snapshot of the trends that gives you a complete picture and a few clicks on it takes you deeper with complete data that shows how your vehicle performance is and what action needs to be taken to improve fleet productivity and performance.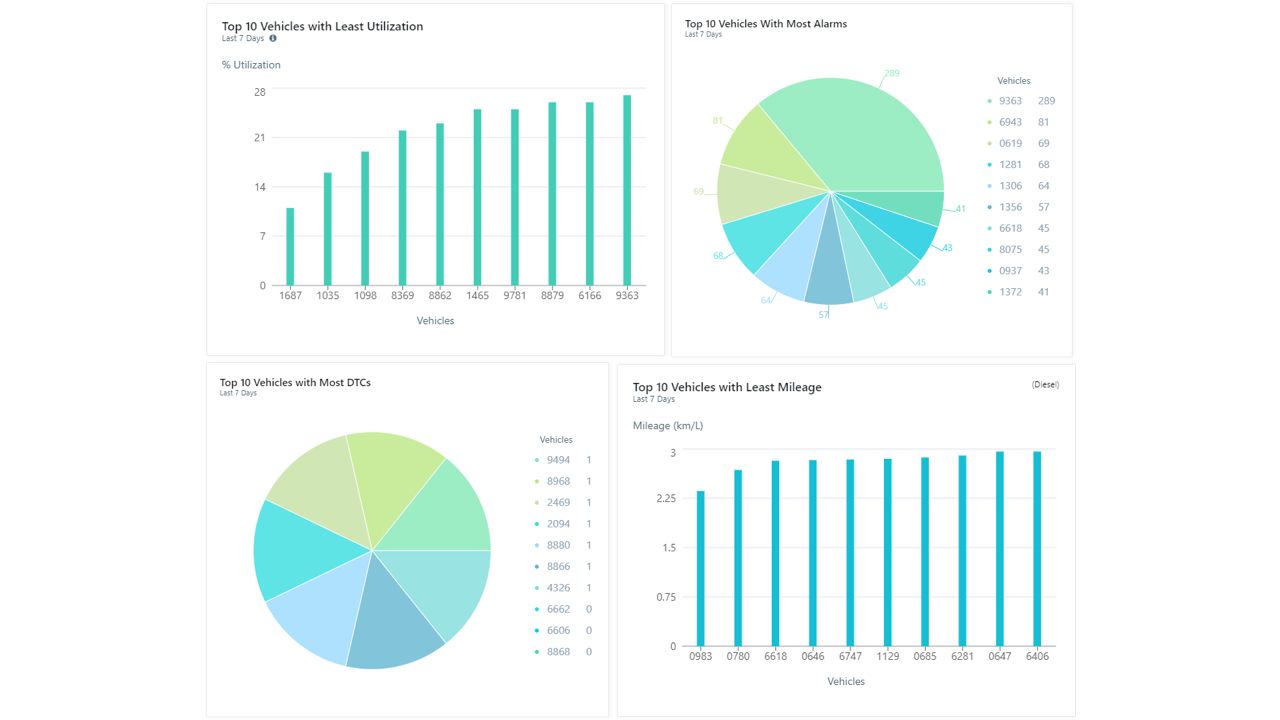 4. Live vehicle speed monitoring
Vehicle live speed monitoring is always necessary and crucial for vehicle safety and fuel economy. With fleetx, you will get an instant alert whenever the driver violates the speed limit for a certain time. You can set these alerts on drivers number itself, so that whenever he drives faster he gets notified of the violations instantly. This not only ensure the vehicle safety but also maintains fuel economy to optimum level leading to better revenue for fleet owners.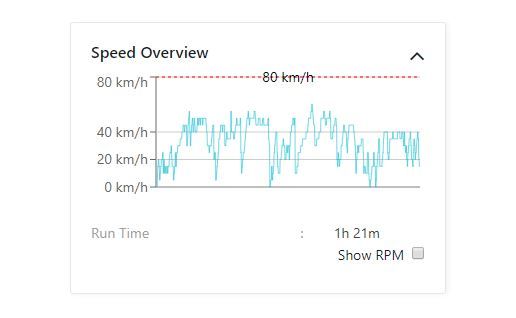 5. Improve vehicle life and reduce maintenance downtime
Fleetx uses advance tracking device OBD II, with which you can get real-time DTCs (diagnostic trouble codes) whenever any problem occurs in the vehicle engine. With the real-time diagnostic trouble codes, you can proactively plan your vehicle maintenance and get the vehicle engine fixed as soon as possible. Timely maintenance of vehicle improves vehicle life, maximize its utilization and reduce downtime.
6. Share live location with clients
Calling back-and-forth between your drivers and client is not a good practice especially from the client's point of view. Client usually get frustrated if they are unaware of when to expect delivery and need to call to driver for an update on it. With fleetx's live location sharing feature you can share GPS location updates directly with your client. With this, your client can track vehicle in real-time and know exactly when to expect delivery. Providing client with accurate ETAs can increase their trust in your company and are happy to continue using your services.
7. Manage drivers availability
It is very critical for fleet owners to manage the driver's availability and their duty assignment. But with Fleetx's real-time location tracking of drivers, you can monitor each driver and their availability. Once, you have the information on every driver's location, their working hours, and their availability, you can instantly change, assign, and update drivers with respect to their working hours.
Take advantage of Real-time Vehicle tracking, real-time data, live dashboard and graphs to improve your fleet efficiency, safety, and health of your entire fleet which improves the overall productivity of your fleet.