Transportation Management Software (TMS) can help businesses manage and improve their transportation operations. With TMS, companies can efficiently and affordably move their goods across different modes of transportation, such as trucks, ships, and planes. Whether it's intermodal moves or domestic and global transportation, TMS solutions can handle a wide range of freight, from small packages to large shipments of commodities. Retail, distribution, manufacturing, e-commerce, and third-party logistics companies are among those who can benefit from using a TMS, as it is crucial to keeping shipping costs in check while maintaining overall service quality.
In India, the rise of e-commerce has contributed to the growth of the parcel shipping industry. With the increasing demand for online shopping, the need for efficient and reliable transportation and logistics services has become paramount. In 2020, India's e-commerce market was estimated to be worth $38.5 billion, and this figure is projected to reach $99 billion by 2024. As a result, parcel shipments in India are expected to increase significantly over the next few years.
According to a report, parcel shipments are expected to rise by 17% to 21% annually between 2017 and 2021, and same-day delivery is projected to increase logistics costs by up to 50% by 2020. Also, as supply chains struggle to keep up with the Amazon Effect, selecting an efficient Transportation Management System (TMS) has become critical. Choosing the right TMS solution can optimize core operations and transform the way a business functions. As TMS solutions become more affordable and easier to implement, they are becoming more widely adopted throughout the industry. Bart De Muynck, Gartner's research vice president of transportation technology, notes that investments in TMS solutions increased across the entire supply chain technology spectrum in 2018.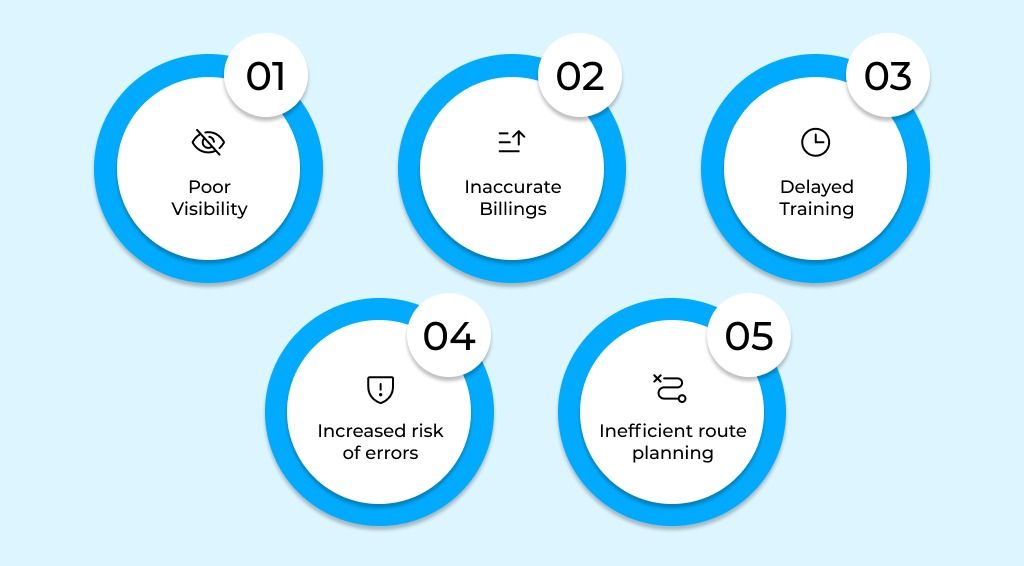 However, the lack of an efficient Transportation Management System (TMS) has been a major challenge for the logistics industry in India. The absence of a TMS can lead to inefficient routing, delays, and increased costs. Without a proper system in place, it becomes challenging to track shipments, manage inventory, and optimize delivery routes, leading to a higher probability of errors and losses. Moreover, India has a complex transportation network with a mix of highways, rural roads, and urban streets, which can make it challenging to manage logistics efficiently. A TMS can help streamline operations, reduce costs, and improve the overall supply chain management process.
Implementing a TMS can bring about numerous benefits for a company, including cost and time savings, as well as improved accuracy and visibility of data. Logistics Management's 2019 Transportation Management Systems (TMS) Market Update emphasizes the significance of TMS in modern supply chain management, stating that TMS has become an essential tool for companies facing the challenges of e-commerce and omni-channel operations. Moving beyond outdated methods such as clipboards, spreadsheets, and phone calls, TMS enables businesses to manage their transportation networks more efficiently and effectively.
Here are few reasons why your company needs a Transport management software: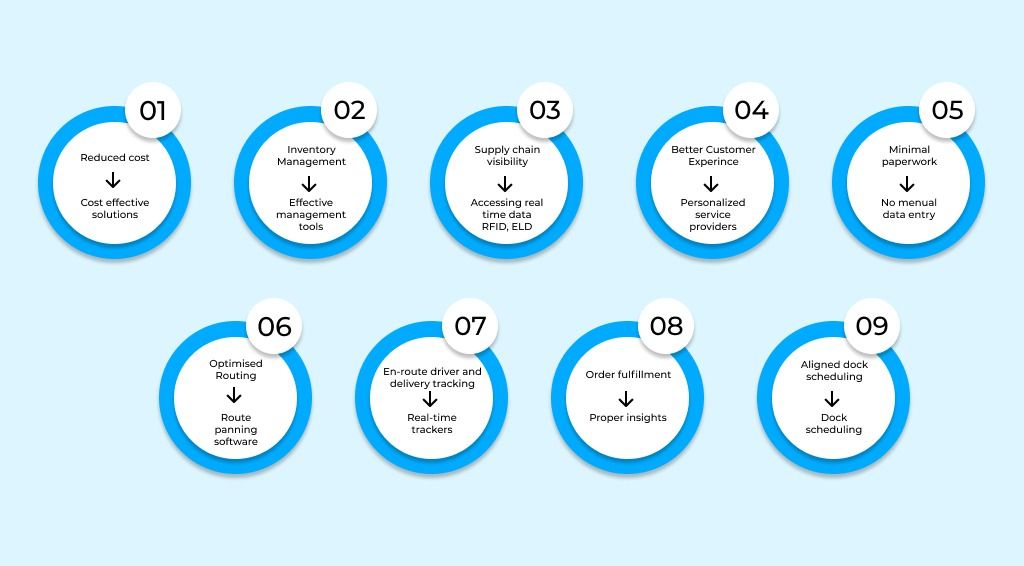 Reduced Cost:  A transportation management software can help businesses reduce shipping expenses by optimizing routes and loads, and providing cost-effective solutions. This results in improved cash flow and lower overall freight costs, while also increasing carrier competition and providing more options for logistics professionals.
Inventory Management : A dependable TMS system enables businesses to track their orders and shipments in real-time, providing accurate inventory forecasts and improving supply chain transparency. TMS solutions can also integrate with inventory management tools enhancing overall efficiency and intelligence. This level of control over inventory management can benefit all supply chain activities, particularly with the growth of ecommerce freight transportation.
Supply Chain Visibility : Transportation management software offers businesses complete visibility across the entire supply chain, providing access to real-time data from all integrated systems. This allows managers to quickly and efficiently identify potential issues and opportunities, ensuring customer satisfaction is maintained without compromising performance. With real-time tracking and analytics, customers can also be given visibility to their orders through features like Dock Scheduler, RFID and ELD integrations, and Gate Check, making it easy to track the progress of each truck on the route.
Better Customer Experience: Customers today expect fast delivery, personalized service, and the ability to make last-minute changes to their orders. However, meeting these expectations can be challenging for businesses. This is where new generation TMS solutions come in to bridge the gap between order management and warehouse management systems. By consolidating customer orders and choosing the most cost-effective carrier, businesses can improve customer service while also benefiting themselves. With TMS, businesses can adapt their operations to meet customer expectations and provide a better customer experience.
Reduced paperwork and everything at one place: Transportation management systems (TMS) can offer several benefits, including reducing administrative costs and paperwork by automating accounts and reducing the need for manual data entry. With TMS, companies can manage their entire transportation operations in one place and interact with different carriers without the need to switch between different websites. Integration with ERP or ordering systems can further reduce errors and ensure that all order and route information is in one place. Overall, TMS can significantly improve efficiency and minimize billing errors, providing a win-win situation for both businesses and customers.
Optimized Routing: An effective TMS is essential for optimizing routing in today's fast-paced business environment. One such feature that is gaining popularity is pool distribution, which provides greater visibility and control over shipments while reducing costs and speeding up delivery. Using an optimizer, users can build more efficient loads and routes, specifying different parameters to suggest or build the optimal load and route. Visual mapping tools allow users to see the planned route and make changes as needed, resulting in more efficient load consolidation and routing.
En-route driver and delivery tracking: Transport Management Systems (TMS) offer tracking capabilities that allow organizations to keep an eye on their shipments and drivers. With real-time tracking, businesses can monitor the location of their cargo and receive notifications if there are any delays or service outages. The tracking data can also be used to improve route schedules and assess driver performance. Real-time tracking ensures driver safety and allows for prompt feedback and improvements.
Order Fulfillment: The use of transportation management systems ensures accurate order fulfillment by eliminating shipping mistakes and anomalies through real-time tracking and supply chain insight. This results in increased accuracy in order fulfillment, and even minor issues can be resolved without negatively impacting the customer.
Aligned Dock Scheduling: An efficient TMS can align deliveries with dock schedules to improve transportation planning and execution. This leads to a reduction in waiting times and enhances the quality of transportation from one location to another.
Conclusion
In today's fast-paced business environment, delivering quality products to customers quickly and cost-effectively is key to success. A Transportation Management System (TMS) is a vital tool that can help companies achieve these goals. With a TMS in place, businesses can improve the timeliness and accuracy of their operations, save money on freight, and gain increased visibility and collaboration opportunities throughout their supply chain. By selecting the right TMS software for their specific needs, companies can see incremental benefits that snowball into improved business practices and increased customer satisfaction.
As Logistics Management noted, TMS solutions have become a "must-have" for companies that need to manage increasingly sophisticated transportation networks. It's clear that the benefits of implementing a TMS are too significant to ignore. If your company doesn't have a TMS in place, now is the time to obtain one and improve your bottom line.