The automotive industry supply chain is probably one of the trickiest in the consumer goods industry as it requires small and large parts shipped to its manufacturing facilities from hundreds of third-party suppliers. It's natural for an industry with such a complex supply chain to have several variables affecting its efficiency and operations. But before we delve into them, let's understand how the supply chain in the automotive industry works.
The automotive supply chain relates to the complete cycle of supply chain management, from procurement of raw materials for production to distributing the finished goods to the end-user.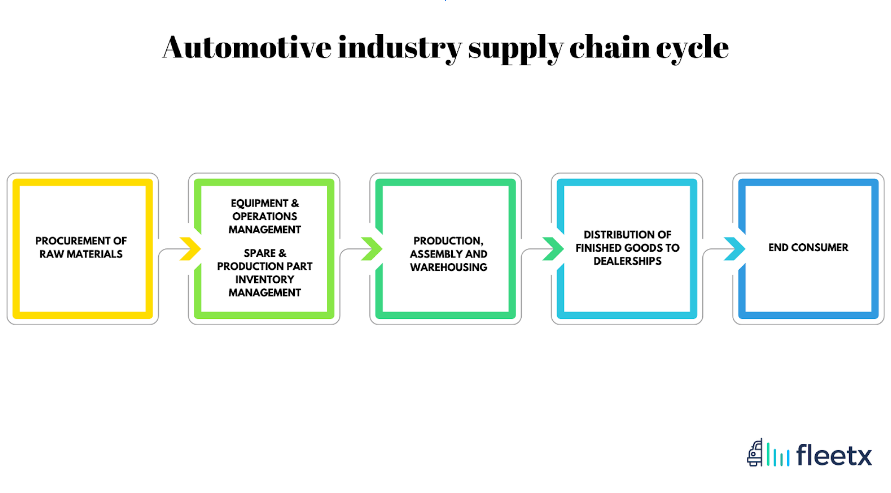 The above figure gives us a broad idea of broad vertices in automotive supply chain automation. The automotive supply chain is not so different from the supply chain in other industries. However, we need to remember that products in the automotive industry have a much longer lifecycle when compared to other industrial goods. That translates to the production, distribution, and availability of spare parts, which is fundamental to a company's business operations. For any automotive business to maintain consistent growth, they need to ensure that apart from their product availability in feasible locations, their spare parts must be equally, if not more accessible.
Supply shocks have adversely impacted the automotive supply chain, affecting the availability of products and spare parts worldwide. These supply shocks can disrupt the normal movement of goods and services. For example, the coronavirus pandemic adversely affected production due to supply and labour shortages. In addition, the global semiconductor shortage also brought assembly lines at manufacturing units to a staggering halt.

A 2021 McKinsey report notes that the shortage started in the first quarter of 2021, which snowballed into a full-blown crisis affecting the supply side. Even in the consumer automobile segment, the wait list for the availability of new vehicles has ranged anywhere between 1-10 months since the disruptions were first reported. As a result, new car sales have declined since mid-2021 in India, and the demand for used vehicles has seen substantial growth in the same period.

Why efficiency in automotive supply chain matters
Despite the challenges faced by the automotive supply chain industry in the past two years, the global automotive logistics market size was 262.06 billion USD in 2021 and is expected to grow at a CAGR of 6% and reach around 391 billion USD by 2028. The Asia-Pacific automotive logistics was valued at 130 billion USD as of 2020, making it one of the largest markets for the industry.
However, the growth in the automotive supply chain is subject to the realignment of the supply chain in the post-pandemic period. Several businesses and countries are strongly emphasising on localisation of automotive supplies in light of supply chain disruptions caused due to covid-19 and geopolitical tensions. Thus, businesses and suppliers must be cautious about changes that could significantly affect the existing supply chain network.
Lastly, it wouldn't be fair to attribute the inefficiency in the automotive supply chain to only covid-19 or the semiconductor shortages. One of the most pressing issues in the automotive supply chain industry has been the lack of supply chain visibility in operations. Events like Brexit have made the problem worse for automotive manufacturers and suppliers.
Experts on the issues with the automotive supply chain
Inefficiency in supply chain operations causes delays in production and non-availability of vehicles or spare parts, thus, affecting consumer sentiment towards the company. As highlighted in the previous section, the automotive industry is not immune from such impacts. A survey conducted by the Economist Intelligence Unit found that the auto industry was struck the hardest due to supply-side disruptions in the supply chain.
Another report by the Economic Times that offers a supply chain report from the lens of industry experts suggests that the inefficiencies and the current crisis are also a result of the Just-in-time supply chain system that the automotive industry practices.


"Just-in-time supply chain system or JIT refers to the process of timing the flow of raw material and other production capacity to co-incide with consumer demand for the finished product. Instead of stocking supplies and waiting for consumers just-in-time system eliminates the risk of over-production and minimises cost."
However, the efficiency and reliability of the JIT system in the automotive supply chain have been the subject of intense debate for a long time. They have been brought to the forefront in the post-covid economy. The system's proponents include the likes of V.C. Sehgal, Chairman of Motherson Group and R.C. Bhargava, Chairman of Maruti Suzuki. They argue that the JIT system is highly efficient and should be encouraged as it is cost-effective and complements the razor-thin margins at which the industry operates. At the same time, other magnates like Raghupati Singhania, CMD, Jk Tyres & Industries argue against the continuation of the JIT supply chain system and suggest that it needs a complete rethink. He also states that the challenges faced by the automotive supply chain were in basic planning, sourcing and distribution of supplies.
On further analysis, we can conclude that there is merit to both sides of the debate. However, one thing that stands true is how the automotive supply chain functions and needs substantial changes.
Other common challenges in automotive supply chain and their solutions
We now address broader challenges associated with automotive supply chain management and how businesses can effectively tackle them to improve operating efficiency.
Visibility over supply chain operation is a cross-cutting problem across all industries, but its impact is felt more adversely in the automotive supply chain. On average, a vehicle contains around 30,000 moving parts that are manufactured in-house or sourced from a third-party supplier. Moreover, due to the just-in-time system followed by companies, a shortage of even one component can halt the assembly line at manufacturing units. Stocking more inventory in case of disruption is a feasible solution as well, but as the experts suggest, not a very practical one that can be adopted immediately.
Businesses can tackle supply chain visibility through technology integration in their operations by creating a common platform for inventory management. A common and accessible inventory management platform will increase transparency in the stocking and ordering of supplies and allow for early detection of delays and other issues that can hamper the efficiency of operations.
Businesses can also increase transparency in transport operations through IoT-enabled technologies such as a vehicle tracking system. It will allow them to access and track their fleet in real-time, thus, making it easy to monitor and look out for possible disruptions. Moreover, businesses can also employ a route planning system to plan their transport operations more efficiently by opting for the fastest and most cost-efficient route for their fleet. Route planning systems also make it possible to get and share accurate delivery ETAs. Businesses can track the estimated time of their supplies beforehand and plan their operations accordingly.
Integrating supply chain operations with technology also allows businesses to collect crucial data on inventory, shipping, operational expenses and other business operations. Automotive supply chain data can be a source of meaningful insights into operations which would otherwise not have been possible. It allows businesses to plan their operations more efficiently and minimises the risk of sudden disruptions paralysing production. Moreover, operational data such as fuel consumption, vehicle maintenance record and other vehicle-related data can also make it possible for businesses to make their internal operations more efficient and save costs wherever possible.
Conclusion
Technology-driven fleet management solutions are aiding businesses across industries to transition to more integrated, transparent and efficient operational practices, allowing them to mitigate disruptions impacting the entire supply chain. Moreover, technology-driven operations are more likely to provide insights that can be useful and accurate for businesses in demand forecasting and planning their procurements accordingly. Data-driven insights from the operation can also minimise the risk of disruptions associated with the currently used just-in-time supply chain system, thus creating a win-win case for businesses in the sector.