Cargo theft continues to be the biggest trouble-maker in the logistics industry, regardless of which part of the world it might be in. Back in February of 2020, The British Standard Institution released an extensive report on cargo theft trends over the last few years. The report was in collaboration with the TT Club, an insurance provider to the international transport and logistics industry. The extensive report looked at cargo theft across the globe.
What types of commodities are at risk?
Data recorded from 2017 shows the top five commodities that were stolen globally were –
2.       Consumer Goods
3.       Electronics
4.       Alcohol + Tobacco
5.       Fashion Goods (apparel + footwear)
Over the years, this order remains the same, yet theft has increased on a macro level. Food and Beverages constituted for 19% of the stolen goods in 2018, only to increase to 28% in 2019.
In Asia alone, the Food and Beverages category constituted for 32% of the stolen commodities. In 2018, metal was the second top commodity stolen, which later fell to the 5th top commodity stolen.
The theft of electronics rose in 2019. One such case of electronic theft in India was reported in 2020 from Hyderabad, where mobile phones worth Rs. 2 crores were reported missing from the container itself. Apparently, the driver parked the vehicle at Masaipet for dinner. Post that, when he reached Adilabad along his route, he noticed the door of the container was open and a lot of the shipment was missing. To be precise, 2442 units of the cargo were missing. The case was lodged a few days after the actual theft. Now this leads to a lot of questions being raised about the authenticity of this theft.
Alcohol and tobacco theft also increased from 10% to 15% from 2018 to 2019 in India alone. But on the other hand, we also saw a decline in the theft of construction materials. According to the report, this wasn't the only category that saw a decrease. The automotive theft statistics also fell from 7% to 5% from 2018 to 2019. (refer to infographic below for more stats)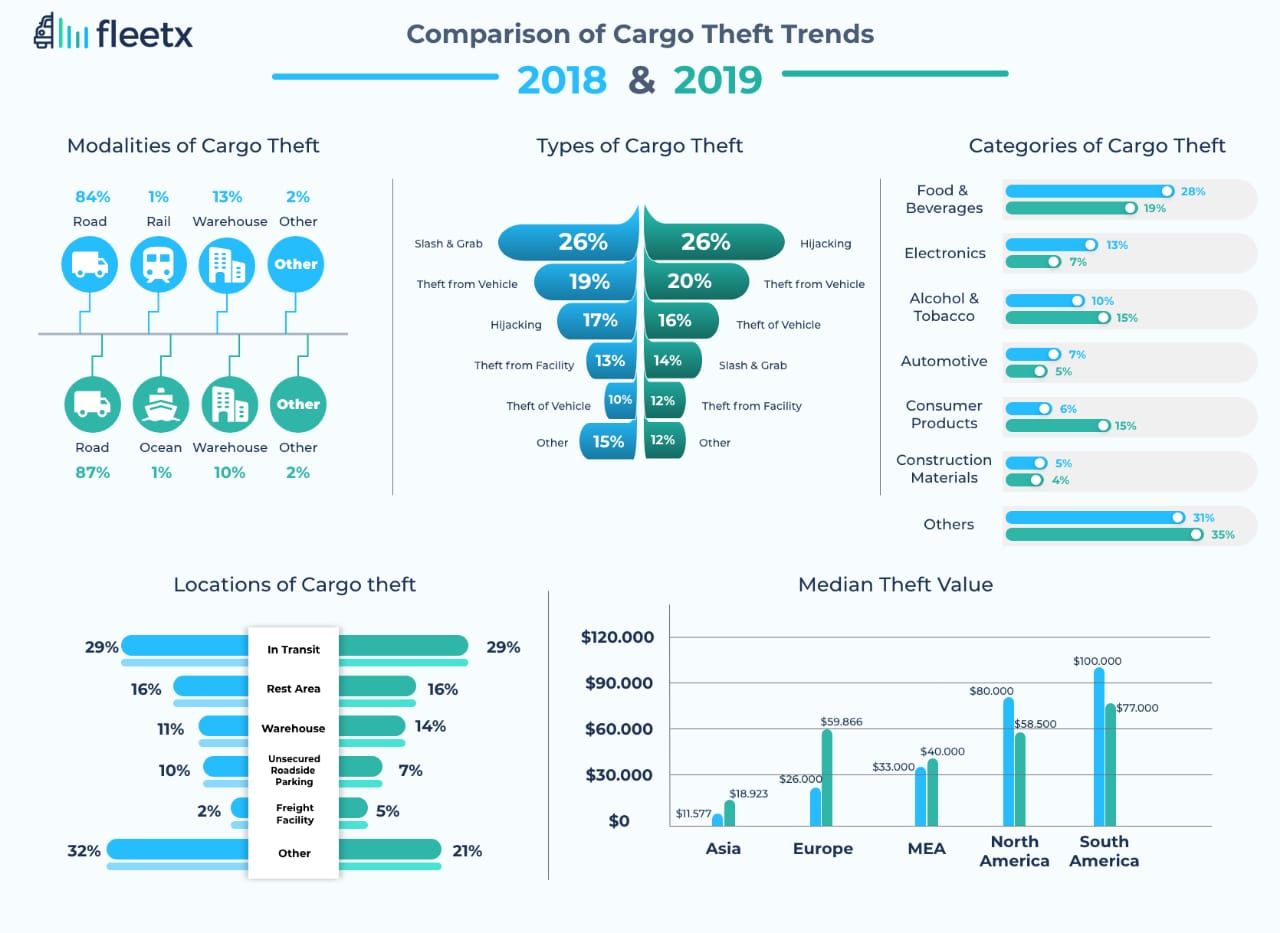 Mike Yarwood, a spokesperson for TT Club, in regard to the BSI and TT Club report emphasized on the importance of going through the report for cargo security purposes. He exclusively pointed out that cargo theft via road transit is the riskiest mode of cargo transport. He was quoted saying, "Thefts either of or from road vehicles most frequently occurred while in transit, in rest areas or an unsecured parking location. These accounted for 60% of those thefts reported. The median value of losses from these incidents ranges from $100,000 in South America to just over $11,000 in parts of Asia. We are particularly keen to draw attention to the dangers of such informal parking and encourage the provision of more secured truck stop facilities."
Global Overview
Looking at global trends, South America actually accounts for the most cargo thefts in regard to frequency and the median value of the cargo. Even the nature of theft is slightly more dangerous in South America. Organized crime has really diversified and expanded and continues to be a major threat to the international as well as domestic supply chain. Drug trafficking plays a major role in the disruption of the supply chain in South America.
On the other hand, the United States and Canada seem to be doing a lot better in comparison. Their reported theft rates have gone down drastically over the years. However, Mexico and Puerto Rico have reported very frequent and violent cases of theft due to the rampant presence of organized criminal groups, very similar to the situation in South America. Mexico City is known to be a hub for cargo thieves intercepting cargo en route to and from across the country to the ports.
As far as Europe and MidEast is concerned, there were a few high-profile incidents where militant groups attacked delivery fleets and unsecured trucks with cargo as they were easy targets for terrorist activities. Apart from these, there was also a major cyber-attack back in 2017 on multiple major ports which led to delays and disruptions in the sea-freight supply chain.
Coming to Asia, the most number of cargo thefts were carried out in India and China. The rate of theft has only risen every year due to multiple reasons, one of the key reasons being the unorganized nature of the logistics industry. Northern India reported the most number of cargo thefts, with the state Uttar Pradesh accounting for a quarter of the reported theft. The main cause would be corruption along the supply chain. According to the BSI and TT Club report, "A significant portion of incidents in both India and China involve thieves stealing goods directly from facilities, a trend demonstrative of poor access controls and one that compares similarly to 2018. Poor access control protocols often contribute to cargo theft in Asia, but particularly in India and China where terminated employees often retain facility keys that are used to conduct thefts at a later date."
The report basically points out that corrupt employees resort to stealing small amounts of cargo. Even though the overall median value of the cargo is still low compared to other countries, there are still a few cases of high-value cargo thefts in the region. Other tactics used by thieves in India and China would be the drivers or passer-bys stealing the cargo or even unorganized tactics such as in-transit theft.
In January 2021, a Special Task Force of the Odisha Crime Branch police narrowed down on an organized criminal group and caught 32 metric tonnes of LAM coke. According to the police, the LAM coke was part of a previously stolen cargo theft case and was now being stored for illegal sale. They also found 9 trucks and one earth-moving vehicle and a variety of other smaller amounts of incriminating material.
Rampant cargo theft in India owes it to the unorganized nature of the industry, but there are a few organized crime groups too. As opposed to the US or other technologically advanced countries, India lacks the analytical strength and power to crack down on cargo theft. As unorganized as the crime is, so is the crime prevention system.
Has the Covid-19 pandemic affected cargo theft?
Considering India accounted for a majority of theft reported in Asia, the global lockdown has only boosted this. Multiple cargo fleets were forced to abandon their freight due to the severity of the pandemic which lasted months. With national highways and state borders shut down, unsupervised cargo was basically sitting idle, abandoned on highways and smaller towns. Usually, abandoned cargo would be seen as a responsibility of the logistics companies, but these were unforeseen circumstances that have left insurers in a dilemma. So who pays for the damage? Funnily enough, a lot of business owners are now stating that 'this was an act of God' to avoid being held accountable for the theft.
One can only wait and see what course of action the authorities plan on taking.
Stay tuned for the second part of the series where we tell you ways to protect your cargo from theft.
fleetx can help your business with its advanced technology and reduce any risk of cargo theft. To know more, you can drop us a message and we will get back to you with your expert team of consultants.